After a rejuvenating night's sleep in Jacob Lake, I got back on the saddle for an out-and-back trip to the North Rim of the Grand Canyon. My initial plan was to spend the night at the Rim, but during the ride there I decided to stash my gear outside the park entrance and camp on the side of the road to shorten the next day's ride. Since I jettisoned some weight, it also meant I could quickly get into the park, check out the Canyon and ride back out. This was the first time on the trip where I had the opportunity to drop my gear for a section of a ride. I found a great spot about six miles from the park entrance that was high on an embankment and set back about 100 yards from the road. I unpacked my tent and zipped two of my panniers up inside, praying that no critters would investigate. Then, Toby and I continued on down the road with a little extra spring in our pedal.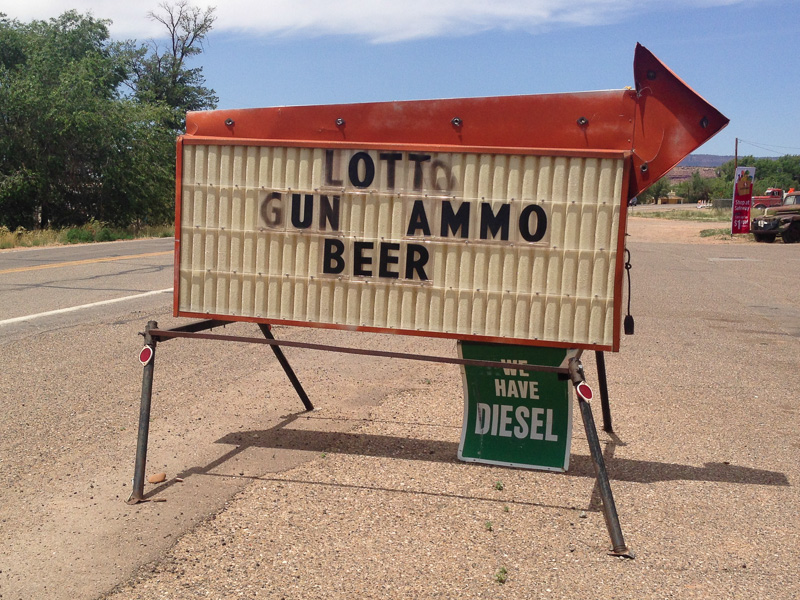 It didn't take long to arrive at the Visitor Center, find a relatively safe spot to lean Toby and walk through the picturesque lodge to the patio that overlooks the Canyon. From the patio, I had a uninhibited view of three gorges that ran towards the main channel. The North Rim is 1,000 feet taller than the South Rim (10 miles away as the crow flies) so the drop off is quite dramatic. The area is also less built-up and trafficked than the South Rim. All in all, the visit was just long enough to get a feel for the Canyon before I had to turn around and ride back to my campsite. The highlight was seeing three California Condors soaring on thermals above the lodge patio.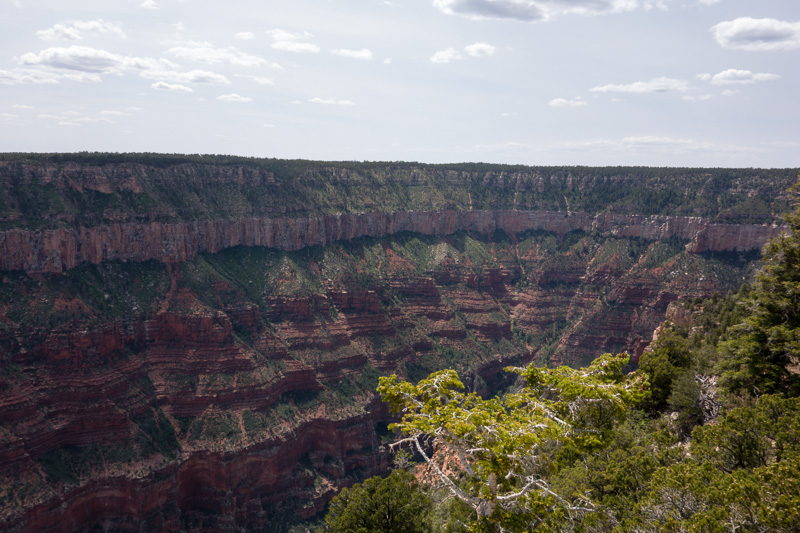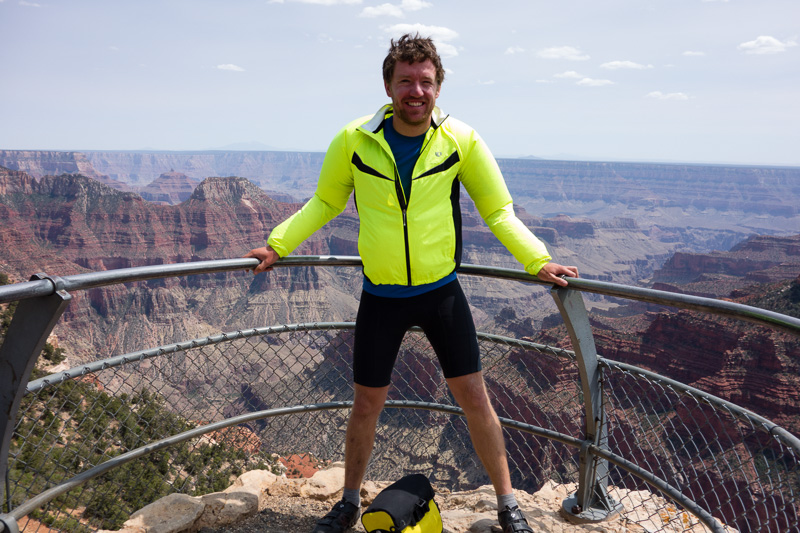 After a good night's sleep, the ride east off the Kaibab Plateau took me on a 4,500 foot descent all the way to the Colorado River. I splurged on motel in the tiny community of Marble Canyon (basically a gas station, gift store, motel and restaurant) after five straight nights of camping. Since most of the day's ride was downhill, I had plenty of time to do laundry and think about how I wanted to break apart the ride to Flagstaff. My only real option was to camp in a town called Cameron, in the heart of the Navajo Reservation. I was now at about 3,500 feet and heat was forecasted to be in the mid to high nineties the following day. With that in mind, I rolled across the Colorado River at 5am, turned south and trucked on into the Navajo Reservation.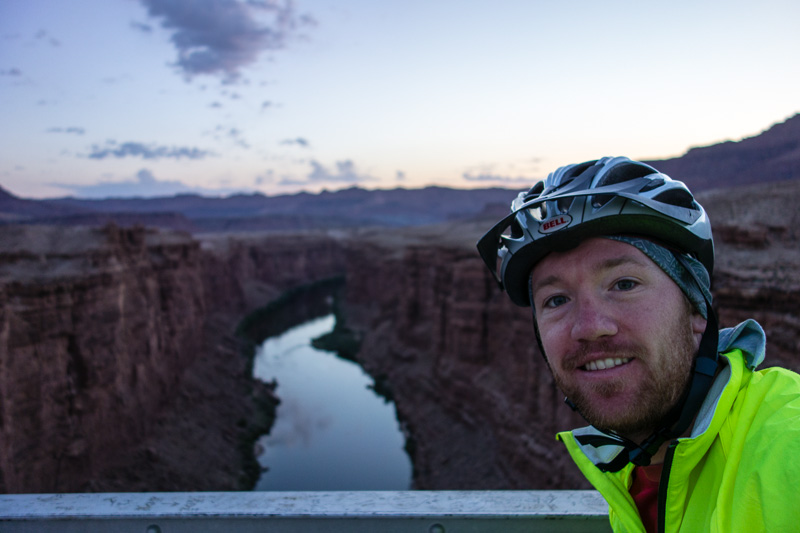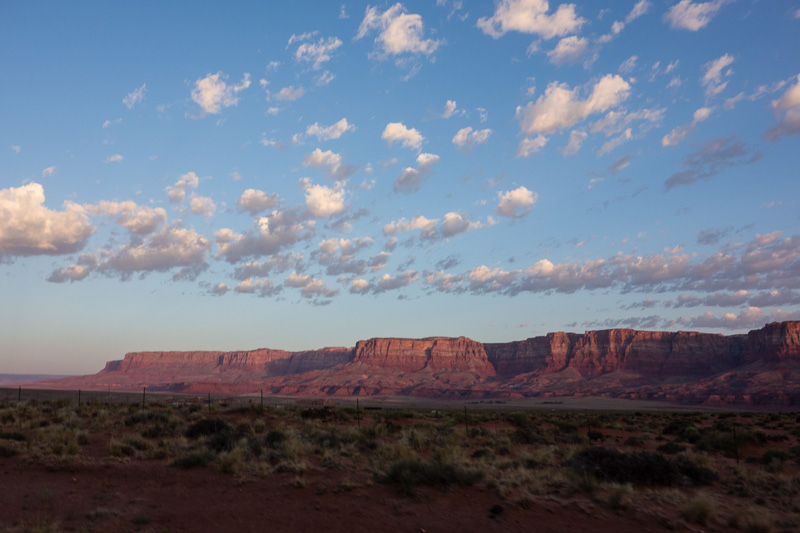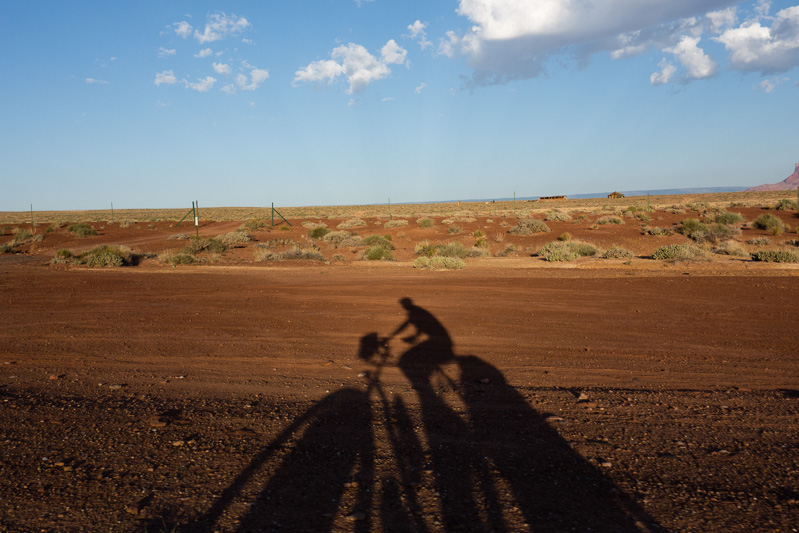 I arrived in Cameron around 1pm and found a gas station/art gallery/deli that offered a few basic camping spots behind one of the compound's buildings. Thankfully, there was a tiny patch of green bermuda grass to pitch my tent on. This was the first (and only) green grass I had seen all day. It was too hot to set up my tent and sit outside so I went to the deli for corn dogs and potato wedges. A few hours later, the deli closed and I moved to adjoining art gallery to wait for sundown. Local Navajo women sell jewelry and ceramics out of the gallery during the day. There was only a few women there and I made friends with Bridgette, who had a wide selection of jewelry at one of the tables. We chatted off and on for a few hours about my trip and her life on the reservation. Soon, her daughter drove up in a big pick-up and joined us. She was 14 years old (kids start driving as early as 11 or 12 on the reservation) and was moving to Southern California in August to start high school. Bridgette's husband spends a lot of time there for work. They also jokingly warned me to watch out for Tom, the station's handyman and security guard, because he had a tendency to talk your ear off. His trailer was out back next to the patch of grass.
When the gallery closed down for the night, I headed back to the lawn to setup camp. I picked out the softest looking spot of grass and pitched the tent. As I was getting organized, three young Navajo kids wandered over from Tom's trailer and started playing on a propane tank. I waved and said hello but they shyly stuck to their games. Eventually, curiosity got the best of the oldest one and he came over to check out what I was up to. I pulled out what meager snacks I had (supplies were almost depleted at this point) and shared my trail mix, tuna and crackers with them (the other two had now joined). Their names were Jaden (3 years old), Asia (3) and Logan (7). Logan and Asia were siblings and Jaden was their nephew. They were Tom's grandkids and lived on the reservation. As they wolfed down a few crackers each, I told them what fruit and nuts made up the trail mix. About 15 minutes later, their father showed up to take them home.
Soon after sunset, Tom ambled out of his trailer to say hey and make sure I was alright. As Bridgette had warned me, Tom was a chatter. We talked (Tom mostly) until it was almost completely dark. A few highlights: Tom is in his mid-sixties and didn't have any teeth that I could see. He was born and raised in Death Valley and had moved to Northern Arizona in his late twenties. Soon after, he married a Navajo woman and moved to the reservation, where he has lived for the past 37 years. He worked construction at the Grand Canyon (both Rims) in his younger years and built many of lodges, centers and amenities that are still there to this day. He seemed to have a connection to almost every person in and around Cameron through his kids and grandkids. When I asked Tom what advice he had for some someone my age, he answered, "Save your money and don't have kids early!" As much fun as it was to talk with him, I eased out of the conversation since I had another early morning. Tom promised to wake up early to unlock the bathroom (very important) and see me off. The next morning, after a breakfast of fruit, mini donuts and granola bars, I headed south on HWY 89 and began the steady climb to Flagstaff.
Two days prior, my friend Tammer (who I visit after Flagstaff) sent me a text letting me know that one of my favorite bands, The Stone Foxes (a rock 'n' roll band from San Francisco), was playing a gig in Flagstaff the night I would be rolling into town. I had not been following their latest tour that closely after seeing them in San Francisco earlier this year so the news was a complete surprise! The ride from Cameron to Flagstaff went by quickly since my mind was on the show. The only mishap of the day was one flat tire five miles south of Cameron, my first since getting two on day one of the trek. I checked into a hostel in downtown Flagstaff just after lunch and killed time until doors opened at The Green Room. The Stone Foxes came on around 10pm and played a great set for a small 50 person crowd. It was a great way to cap off three weeks on the road! I headed back to the hostel with buzzing ears to catch a few hours of sleep before heading to New Mexico for a weekend visit with Tammer. You'll hear about that adventure in the next post!