From New Orleans, I travelled north on Amtrak to Jackson, Mississippi. Daryl, a good friend of the family, met me at the station and we drove into the Mississippi Delta to the small town of Leland. Daryl is a retired US History teacher that collaborated with a history teacher from Madera, CA to study the diary of my great great uncle. Daryl was a great host and took me on a historical tour of the Delta, from the Mississippi River just west of Greenville to the BB King Museum in Indianola. I also learned a lot about my family's history in the Delta and their trip west to start a new life in what is now known as Madera, California. After a busy day exploring the Delta, Daryl dropped me off at my friend Meg's apartment in Cleveland, MS. Meg taught right down the road in Indianola from 2010–2012 as a Teach for America corp member. She was back in the Delta for the summer to train the incoming class of TFA teachers after taking a position teaching 5th grade writing in New Orleans for the 2012–2013 school year.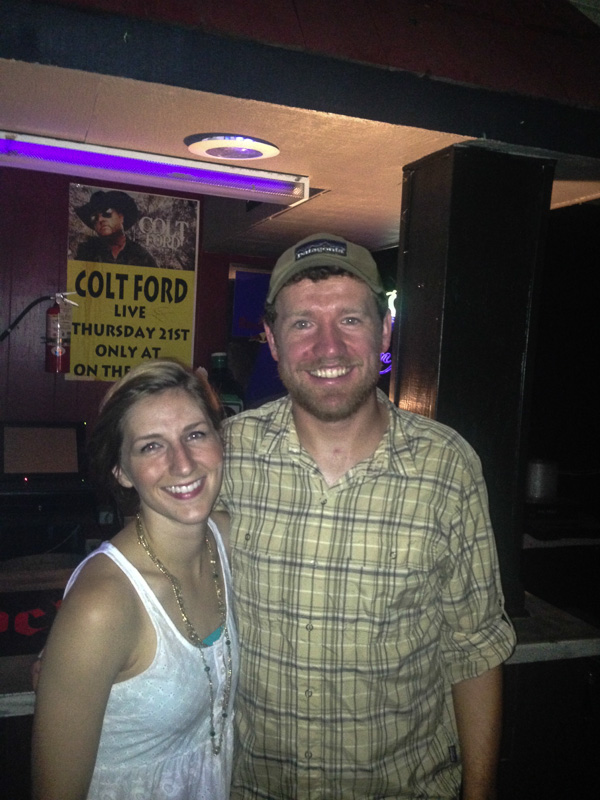 After a fantastic three day visit with Meg and her boyfriend Seth, I was itching to hit the road again. Just before dawn on Sunday, June 30th, Toby and I departed for a 490 mile ride east through Mississippi and Alabama to my final destination: Dahlonega, Georgia. I completed an ambitious schedule of two 110+ mile days and three 65+ mile days to make it to my grandmother's house in Cumming, Georgia (32 miles south of Dahlonega) by Thursday night. My last significant ride was the San Antonio to Austin leg 12 days earlier so I just had to grin and bear the long days and rolling hills of eastern Mississippi and Alabama. There was a surprising amount of elevation gain on three of the days (1900–2400 feet per day). I squatted down for two of the nights in a National Forest and just off a greenbelt. I shacked up cheap hotels the other two nights because I was riding until dark and didn't have time to find a camping spot.
With an eye on the wet weather in Georgia and a care package waiting at the Post Office from my wonderful UCD friend Debs, I opted to mail all of my electronics gear (laptop, camera, batteries) from Gadsden, Alabama. The lighter load made the final push to Piedmont, AL and into Georgia via the Silver Comet Trail much easier. I had more rain in about five minutes as I neared the Georgia border than I had seen the entire rest of the trip. The Silver Comet Trail is a converted railroad line that has been paved over and used strictly for biking, running and walking. Numerous tunnels, gradual grades and beautiful scenery meant even the weather couldn't spoil the ride. The rain kept all of the people away so I had the entire trail to myself. This made the stretch from Piedmont, AL to Smyrna, GA one of the most memorable of my trip. The rain let up until I pitched my tent just off the trail 20 miles west of Atlanta.
The next morning, I attempted to skirt the rain and the busiest areas of Atlanta as I pushed towards Cumming. I had to take shelter from a few thunderstorms at gas stations and a flood-stage creek forced me to ride along streets instead of a creekside trail. After being drenched to the bone for the past two days, I rolled into my grandma's house on the Fourth of July in time for a hot shower and a delicious home-cooked meal. I was also very lucky to see two of my great-grandmothers when they joined us for dinner.
The final leg of my trek was a relatively short 32 mile ride north from Cumming to my father's property along the Etowah River in the Georgia mountains. After heading directly to the river to dip Toby's wheel and take a swim, I arrived at the house for BBQ cooked to perfection by stepmom Sayuri. It was a great way to cap off two months on road. I was relieved to be through with the grind of daily riding and ready to spend time learning a few things and reconnecting with my dad, stepmom, brother and two sisters after being away from Georgia for almost three years.