My good friend Tammer is training in Albuquerque to become an Air Force Pararescue Jumper (PJ) and I wanted to visit him, somehow, somewhere. He is required to stay within a two hour radius of Kirtland Air Force Base. I couldn't make the trek out that far on Toby and still get to Tucson by June 14th so Amtrak was my only option.
With the two hundred mile constraint and an Amtrak stop just across the New Mexico border in Gallup, I scanned Google Maps for nearby parks. El Malpais National Monument was the first one I investigated. An alert at the top of the page said the park's lava tube caves had just opened for the first time since 2005. Tammer was interested so we made plans to setup a basecamp at nearby El Morro National Monument and explore all four caves. The El Malpais website explained that permits were required to do any caving in the park. Also, they made it clear that visitors would need to carry at least three light sources and wear gloves and helmets. We would need to track down all of the gear since we had never gone caving before.
On Friday morning at 4am, I jumped out of bed to catch the 4:50 Southwestern Chief train to Gallup, New Mexico. Toby had to stay on the hostel's back patio in Flagstaff since this particular Amtrak route didn't allow bikes. A few hours later, I stepped off the train in New Mexico and headed to a coffee shop to wait for Tammer. He would't be done with class until around 5pm then had a two-hour drive to Gallup. At 6pm, I walked to the Super Wal-Mart at the edge of town to start stocking up on supplies, including gloves and a few more flashlights. Tammer met me there and soon we were on the road to our campsite.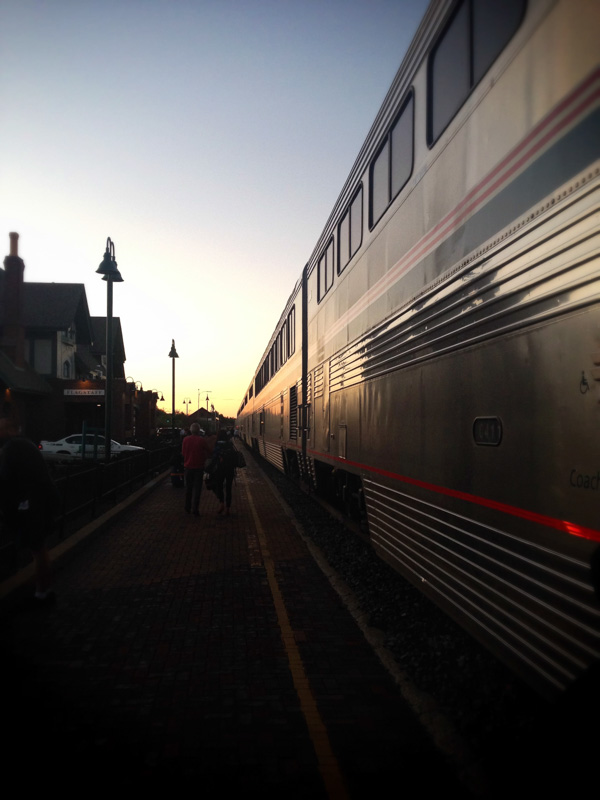 After a great night's sleep under the stars, we headed to the park's visitor center to be issued our permits. The caves were initially shut down due to fears that visitors would introduce a a European fungus that causes a disease known as White-Nose Syndrome. The poorly understood disease has killed at least 5.7 to 6.7 million North American bats. The mortality rate for some species has been observed at 95%. The ranger granted us a permit without any scrutiny since our equipment had never been in a cave before. The 17 bat species that call El Malpais home would not be endangered by two blokes stumbling around in the dark!
We started with Junction Cave, the easiest of the four caves. The temperature dropped off as soon as we starting descending and would level off at about 55° F. Here's how the tubes are formed: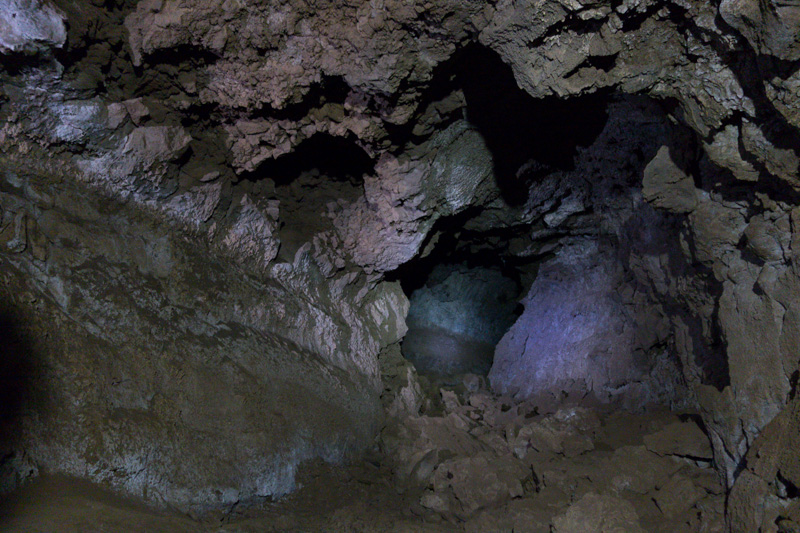 These weren't the most beautiful caves you've ever seen. There aren't any stalactites or stalagmites. Most of the floor was covered in huge boulders that required lots of scrambling and climbing. That being said, there was definitely something cool about being underground in a space that once was a river of lava. Pāhoehoe lava flows were the most common feature in the caves. When these flows cooled, they formed a smooth, billowy and ropy surface. It is likened to the surface texture of pan of chocolate brownies.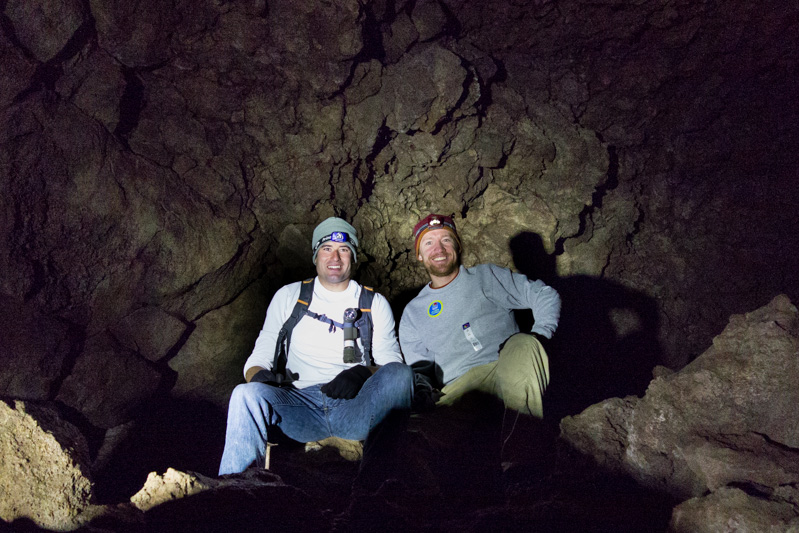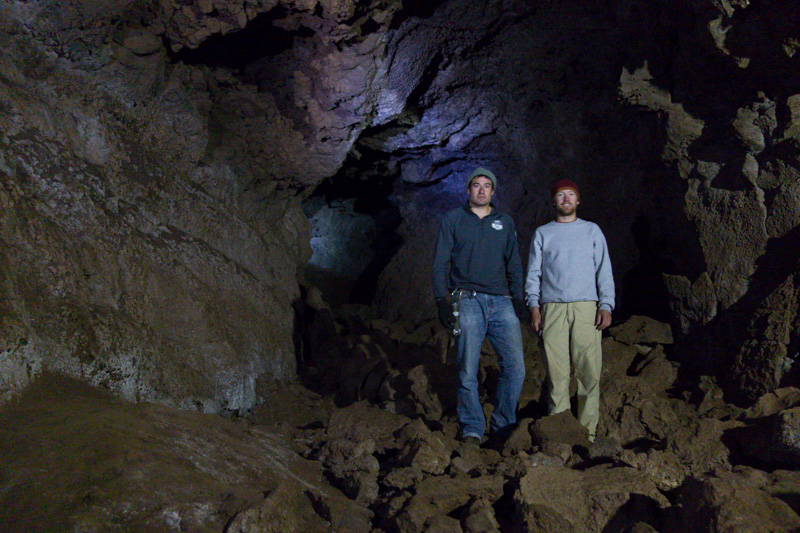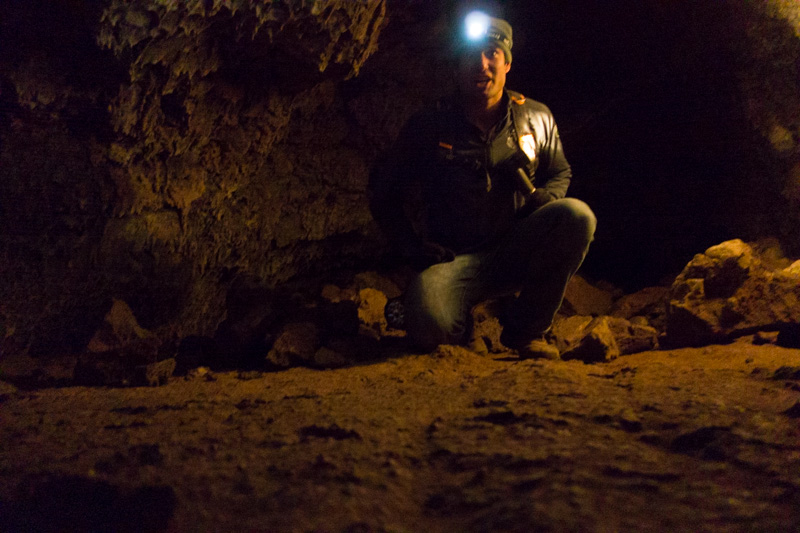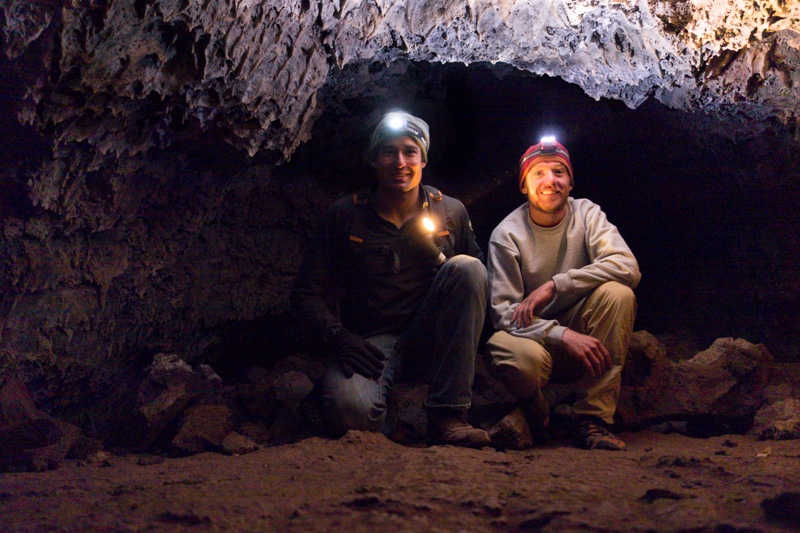 Junction Cave was about 1000 feet long and descended approximately 10 stories down. After an hour or two exploring the cave and taking loads of long-exposure photos and GoPro videos, we moved on to Xenolith Cave. Xenolith was more of a challenge. There were two tricky spots where we had to climb down a 10 feet drop and squeeze through a tight hole to continue on. Eventually, we reached a sign that said continuing further was unsafe due to instability. We turned around and began the trek out.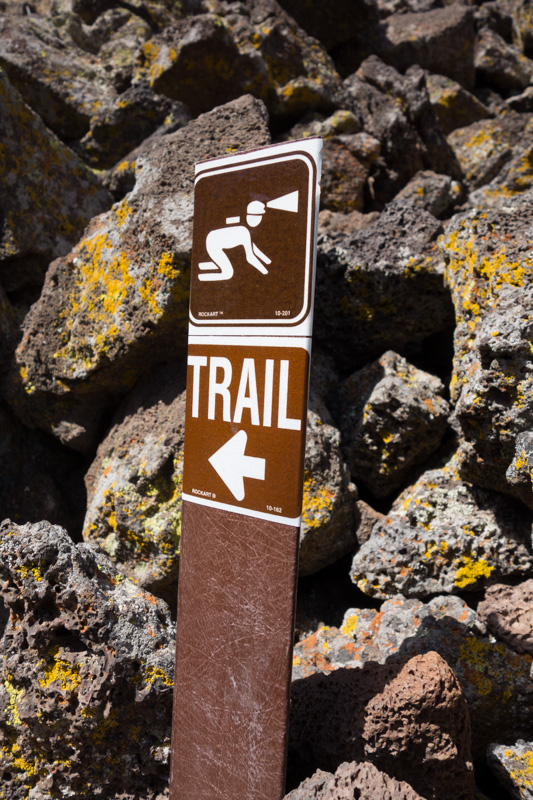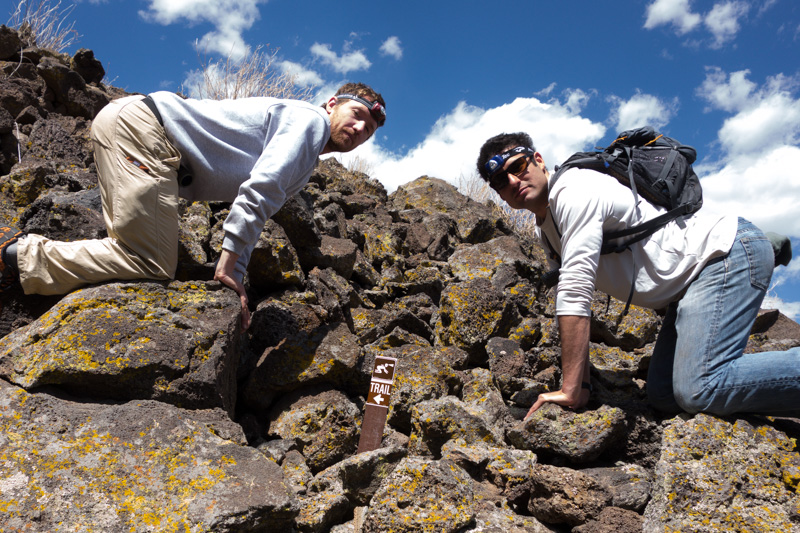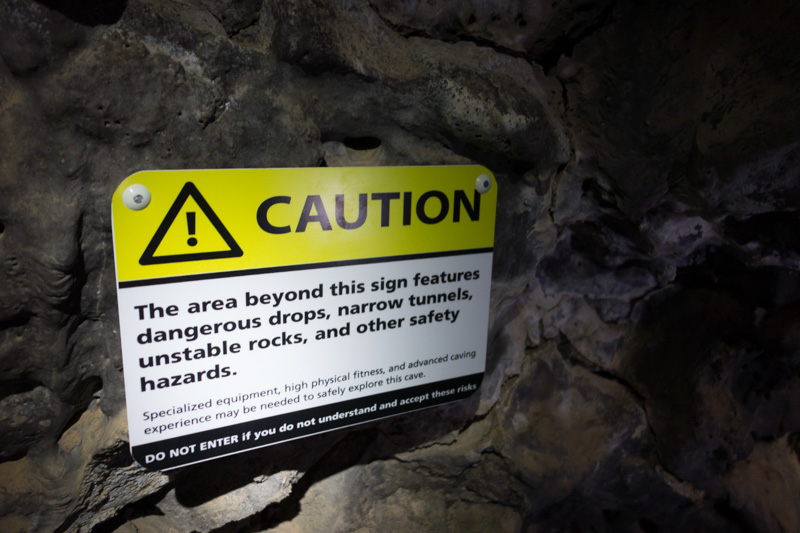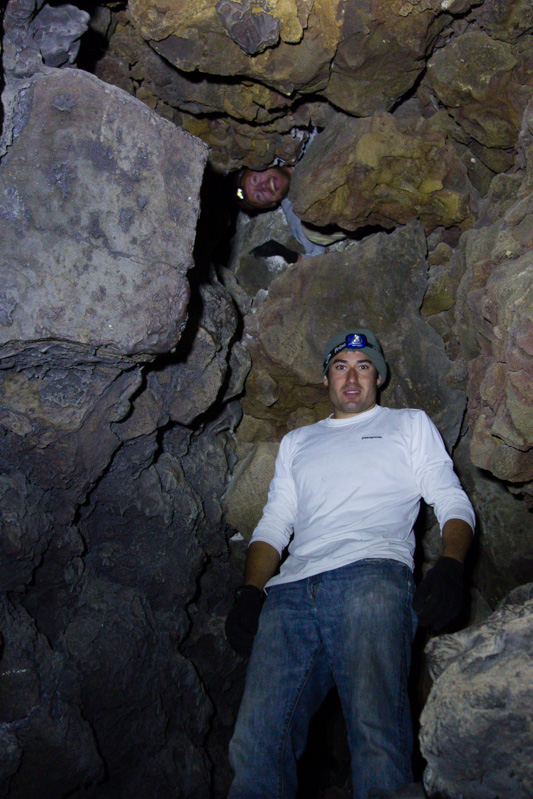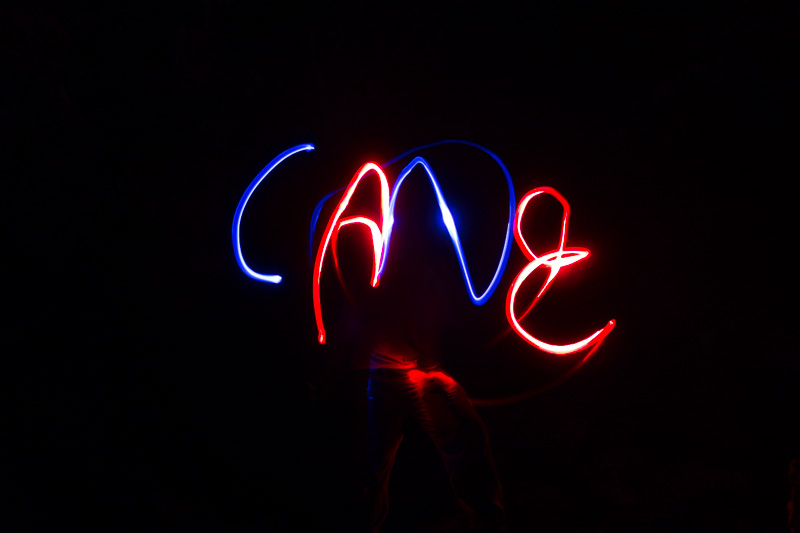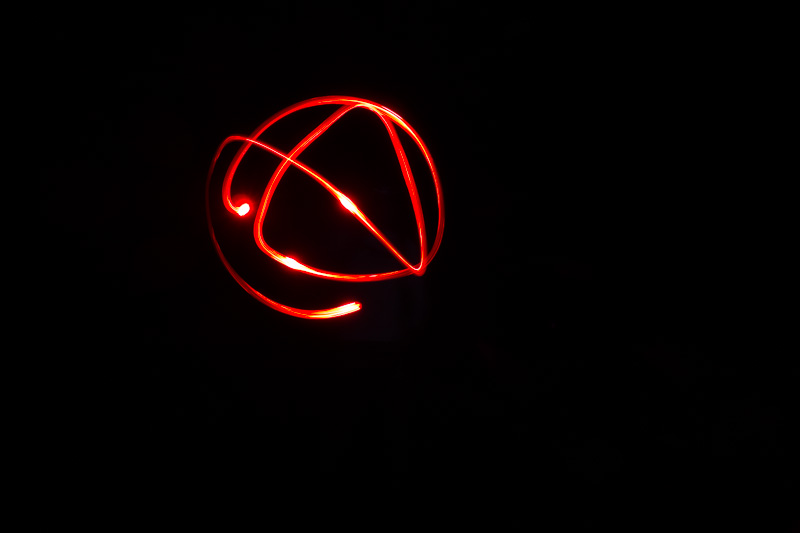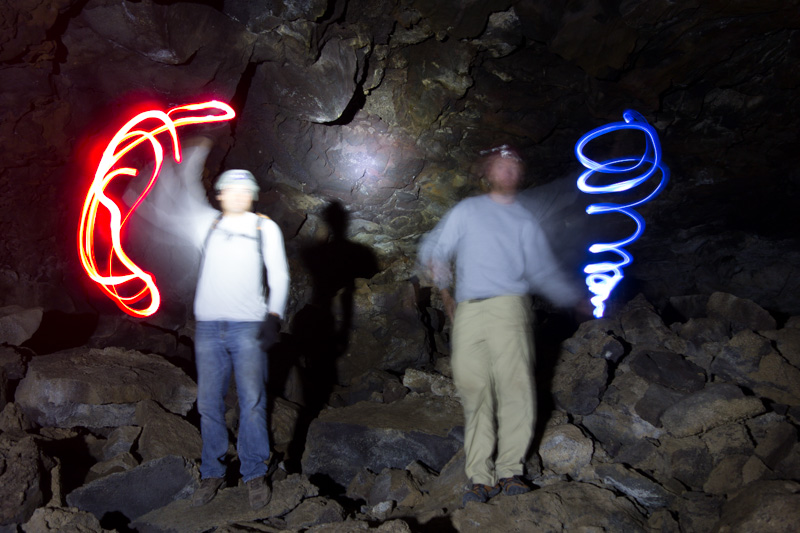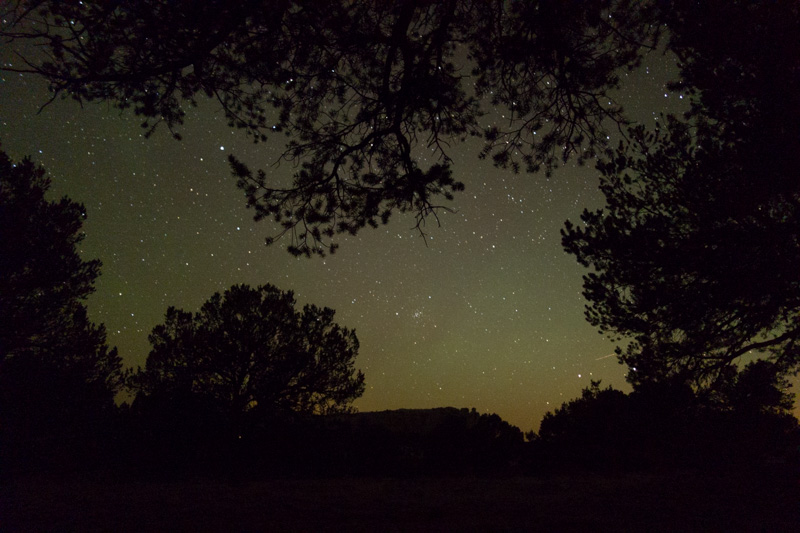 The next day, we drove 10 miles down a dirt road to a different area of the park to explore Big Skylight Cave and Giant Ice Cave. After parking, we had to follow a cairn (rock piles) trail about one mile across rugged lava flows. After crossing a natural lava bridge, we descended into the flow trench and entered the first chamber. We could see light spilling into the trench up ahead and before long were directly under the big circular skylight. Moss covered the rocks here and for once, we could see exactly what were scrambling over. We continued into the cave. The lava tubes were the largest we had seen, with the ceiling at least 75 feet high in some areas. Near the back of the cave, large pillars split the tube into three tunnels. The first required an eight foot climb to explore. The next forced us to crouch and crawl for a 15 foot section before emerging in the final chamber. Here, there was a skylight, no more than a foot across, that let a narrow beam of light into the chamber. We hung out for awhile and played with the cameras some more. Then, we made our way out to explore the Giant Ice Cave.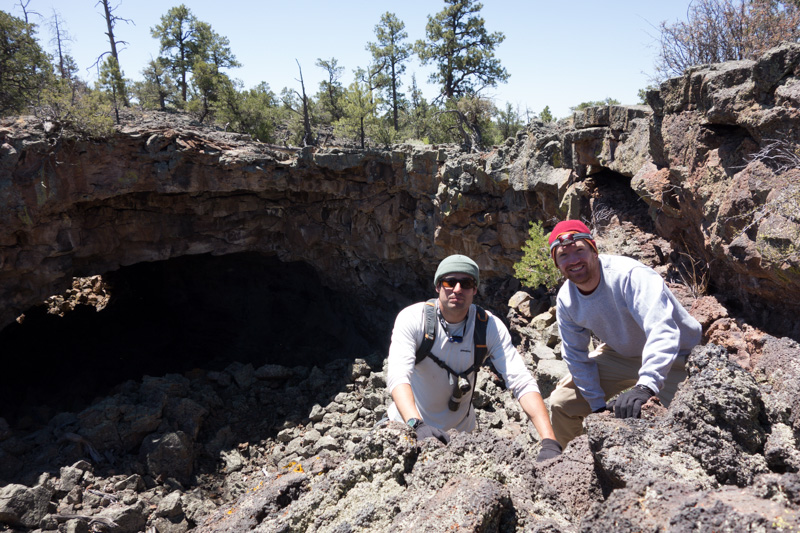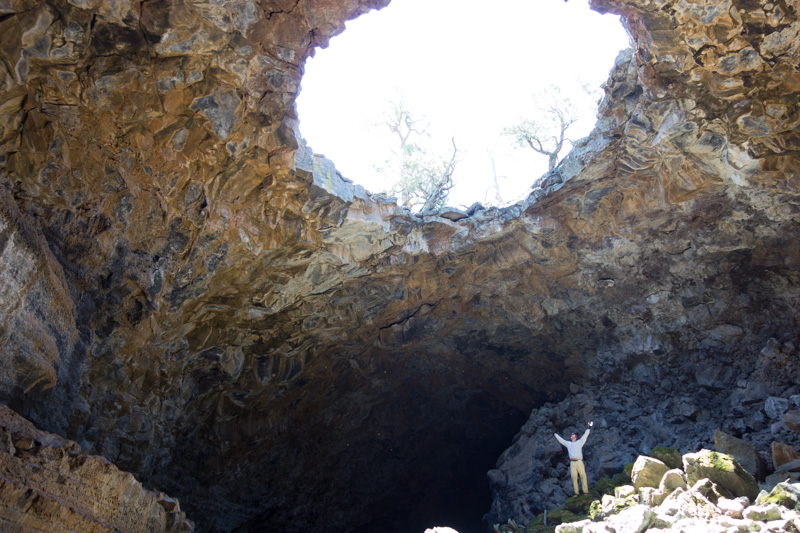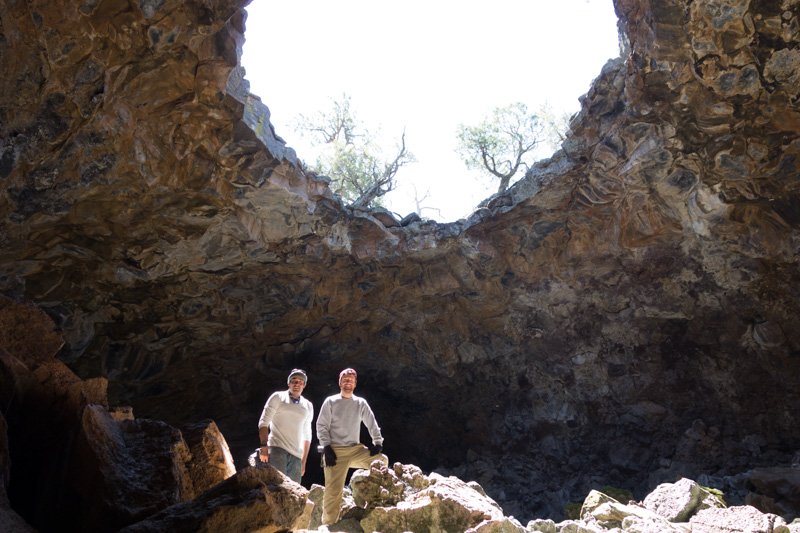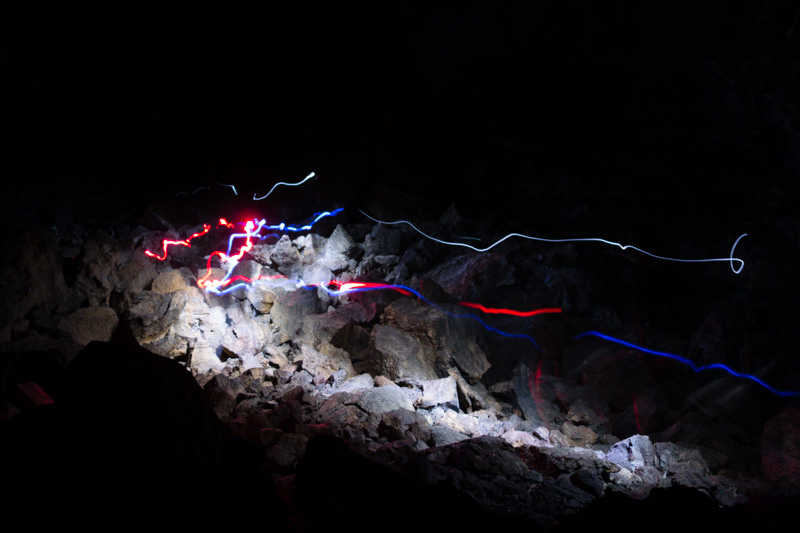 The Giant Ice Cave is at the opposite end of flow trench from Big Skylight Cave. The cave turned out to be tiny compared to the three we had already visited. The name comes from a perennial ice floor found at the cave's back rim. It only took about five minutes of scrambling to reach the back of the cave and find the ice. The ice floor also turned out to much smaller than we imagined, measuring just a few feet long.
We returned to Gallup after hiking back to car and I caught a late train to Flagstaff. Toby was there waiting patiently for me!